Employment
Experts in mechanical and structural fabrication for over 25 years in the industry.




At Bacicco Group we are primarily a technology and project oriented, progressive company.

We encourage employment inquiries from multi-skilled persons that take pride in their work, are creative with attention to detail and posses a ambitious drive to achieve success through employment in the BG team.

Employees are taught to safely use their valuable trade experience, as well as to learn throughout offered training and given challenges.



There are current openings in:

- Boilermakers
- Fitters
- Steel Fabricators
- Welding Operators
- Trade Assistants
- Apprentices
- Riggers

-Estimators
-Project Managers
-HR and OH&S Managers
-Contracts Administrators
-Office Assistants
-Steel Detailers
-Sales Managers
Please email your employment interest to:

bacicco@baciccogroup.com.au

With your interest, experience and any attached documents such as your resume. We appreciate all applications will make it a priority to contact you and disscus your possible future in our team.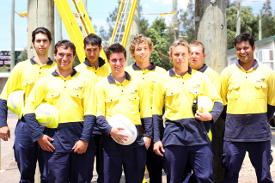 We actively support apprentice training and encourage young Australians to become qualified tradespeople.